If you were registered for the 2020 ABP Newport Wales Marathon, 10K or Family Mile on 19 April ( which has been postponed until 25 October because of the Coronavirus outbreak) and you do not wish to take part in the rescheduled event, you are now eligible to participate virtually – and receive your finishers medal and t-shirt in the post.
Please note that the virtual race is only available to runners who had already registered for the 2020 event. If you registered via a Corporate Package, please ask your Team Captain to contact your account manager before proceeding with the steps below.
The participation window will be open from today until Sunday 26th April at midnight and details on how to participate can be seen below.
Cover the marathon, 10K or mile race distance in your own time, anytime before our deadline for submitting evidence on Sunday 26th April. Read our tips below first and make sure you have organised a way of proving you have covered the distance! A marathon is 26.2 miles and a 10K is equivalent to 6.2 miles. We appreciate that a mile of outdoor running may be difficult with children in the current circumstances so will also accept 20 minutes of home exercise for Family Mile entrants. If marathon runners would rather cover the distance over a number of days in the current circumstances, this is fine.
Once you've finished, take a picture or screenshot to prove it – using a GPS tracker, smartwatch, an app like Strava or MapMyRun or a treadmill.
Login to the MyEvents portal at https://myevents.active.com/Run4Wales and select the 2020 ABP Newport Wales Marathon, 10K or Family Mile from your list of events. Hit the grey 'Upload Now' button in the red 'Virtual Participation Proof' window: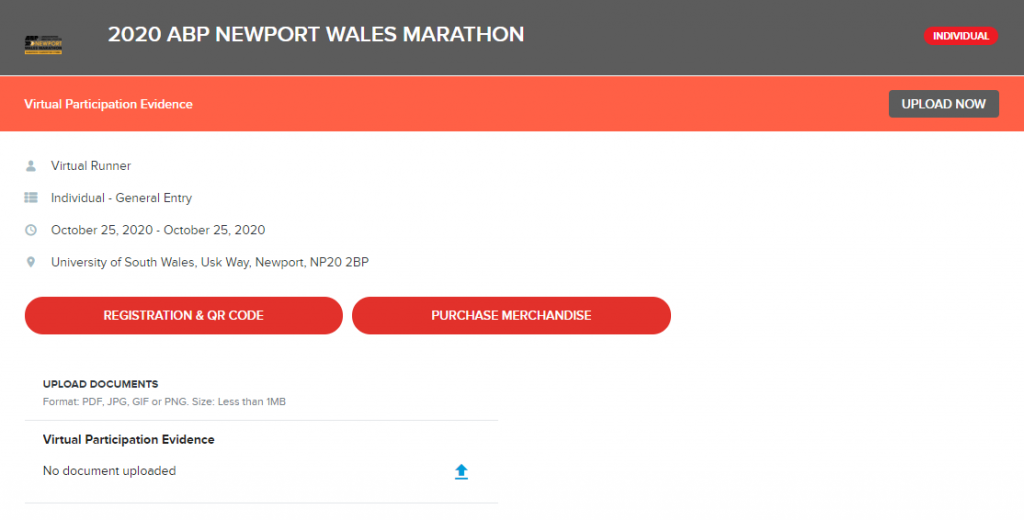 Upload your screenshot or photograph, proving you have covered the race distance (or if you have entered the Family Mile – that you have covered the distance or participated in 20 minutes of home exercise). We will review and approve these, and let you know if there are any issues with what you have submitted. Once your evidence has been approved, your race entry in the rescheduled October event will be cancelled so please only do this if you are certain you do not want to take part in the postponed race.
Wait to hear from us after the 26th April deadline, when we will confirm when you can expect to receive your medal and t-shirt in the post. Please note, Family Mile entrants will only receive a medal.
If you have any issues or questions, please contact us at newportwales@run4wales.org. Please submit your evidence in good time before our deadline (as early as you can!) in case you have any problems whilst trying to submit, as we will be unable to accept any evidence after midnight on Sunday 26th April.
We will endeavour to have finishers items posted to you as soon as possible in current circumstances and will keep you updated on when you can expect them.
Please remember that if you take up this virtual option your entry into the rescheduled October event (which has been automatically transferred) will be cancelled.
---
Top Tips for Your Virtual Race
Check Government advice first
Before heading out, please check the latest government guidelines on leaving your home and exercising outdoors, in case these have changed since this advice was published
Only participate if it is safe to do so!
Please do not run outside if you or anyone you live with are showing symptoms of COVID-19 as you may need to remain in self-isolation, or if you are in a high risk group. Read the government guidelines here.
If you are in a high-risk group, or concerned that you will not be out of self-isolation before the 26th April participation deadline and therefore be unable to take part please contact us here.
Do it at home
For those lucky enough to have their own treadmill at home, there is no need to even venture outside! Set your pace, grab the water bottle and stock up on energy drinks (if needed!) and set your target.
Do it alone
Please don't meet up as groups to participate virtually, and ensure you practice social distancing (keeping at least 2 meters away from others at all times). It is vital that we all follow government advice, to help protect the NHS. This means only leaving the house to exercise once a day and exercising alone, or with people from your own household only.
Plot an alternative route
There's nothing like a bit of fresh air to escape the restraints of working from home. Before you head out and hit the roads and trails, make sure you plan an appropriate route away from busy areas such as towns and city centres. Please do not drive to a beauty spot or area away from your home to participate – plot a route starting and finishing at your own front door.
Sometimes working out a lapped route can be the best thing to do, as it enables you to leave your water and sports drinks at the start.
Do not under any circumstances attempt to complete the actual race route in Newport – road closures will not be in place and it will not be safe to do so.
Get that data
Make sure you track your progress and get a digital record of your achievement. This way we can easily ratify your virtual race. If you haven't got a fancy smartwatch, there is no need to worry, your phone's app store has a number of free apps that can track your progress such as Strava and MapMyRun.
Share with us
We want to be with you every step of the way, just like it if it were a real race day. So send a before and after selfie, log your progress with a video halfway around or do whatever you like to get us involved!
Our aim is to build a community of virtual runners who can lean on one another, and us, for any help they need. So get sharing – we can't wait to join you on your virtual race journey. Make sure you tag @NewportWales262 and @ABPSouthWales on Facebook and Twitter and @Run4Wales on Instagram.
Fundraising
Running virtually is still a big achievement, so if you're raising money for a good cause be sure to share pictures with your loved ones and a link to your JustGiving page on social media. Let your charity know you plan to race virtually as they may wish to support or congratulate you too!
Celebrate!
Staying in shouldn't stop you celebrating! Finishing the race is a massive achievement so don't miss the chance to bask in your success. Share your story through our social platforms and tell us exactly how you plan to celebrate – and we will be right there with you! Be safe, run well and enjoy.
Heading outdoors to exercise? 🚴‍♂️🏃‍♀️

Make sure you stay local and use the open spaces near your home if you can 🌳https://t.co/Rh6DEZR5Ol#StayHomeSaveLives #coronavirus pic.twitter.com/SiyTfkm4PW

— Defra UK (@DefraGovUK) March 28, 2020